ABOUT BONHOMIE WINE IMPORTS
In late 2022 Bonhomie Wine Imports embarks on a new journey based on a partnership grounded in friendship and passion for wine. Co-Owners Eva Zorad and Angela DeLuca are excited to bring renewal and innovation to the deeply rooted traditions and winery-partnerships curated by Charles Woods since 2008. While changes are inevitable key values of the company have been handed down and will remain fundamental: Wines sourced from small farmers who do things by hand, value the wines birth in the vineyards and with a deep connection to their regional traditions.
More than 30 estates are represented and as Bonhomie continues to expand and evolve the company remains grounded in the belief that wine connects us all together with the unbreakable bond of jovial conviviality. Cheers!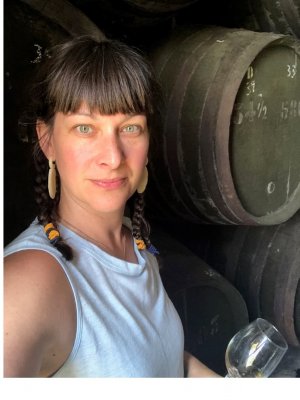 EVA W ZORAD
Co-Owner – Sales Director
Eva was raised on her family's small farm in Western Kansas and moved East with her husband, Ryan, to NYC in the early 2000s. Eva's hospitality management experience, knowledge of spirits, and experience as a homebrewer landed her a job in a small Brooklyn Wine shop and squarely on the main stage of a whole new passion. Wine seemed to perfectly combine her interests in agriculture & history, food, booze, and humanity. In 2005, she joined forces with another couple and opened September Wines & Spirits on the Lower East Side of NYC. She left retail after 8 years to become a mother to two incredible daughters and moved to West Orange, NJ reuniting her with Charlie Woods, founder of Bonhomie. In 2017 she began working her way from compliance to sales and then management, She is now co-owner of Bonhomie Wine Imports with her partner, Angela DeLuca.
ANGELA DELUCA
Co-Owner- National Accounts; New Jersey Account Manager
Angela is a New Jersey native with a few years each spent in Philly and Austin. After a full career in IT, she followed her passion for wine completing her Certified level from the Court of Master Sommeliers in 2014 and went to work for Martine's Wines in 2016. A long-time admirer of the Bonhomie portfolio, Angela began working with the team in 2022 and later joined forces with partner Eva Zorad to become co-owner. She is honored to represent the producers and ethos of Bonhomie and thrilled to be part of the future of this very special company.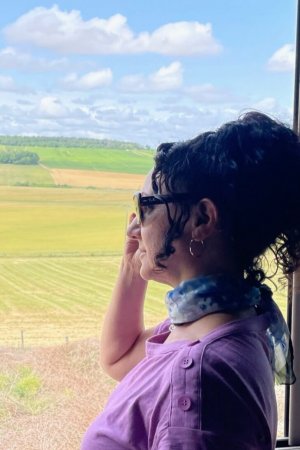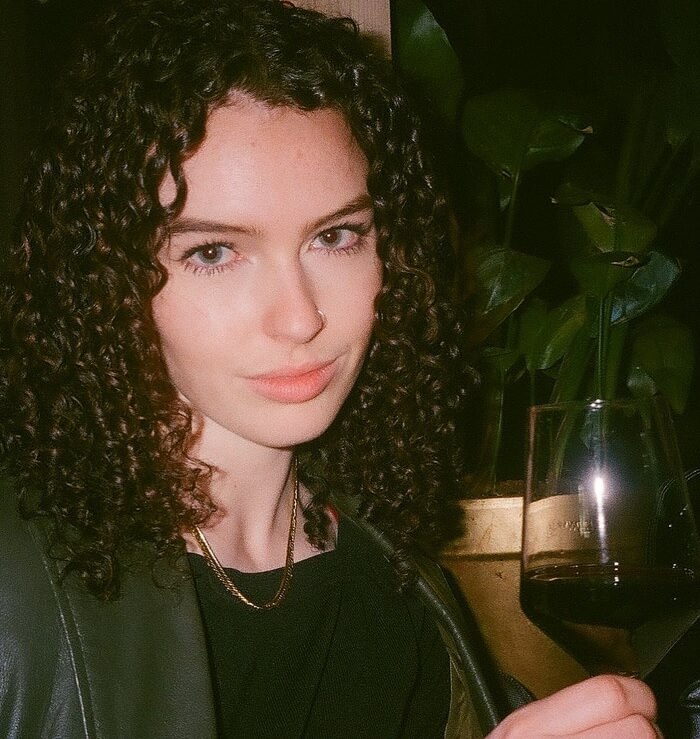 CARINA ELLIS
Sales – Manhattan and Brooklyn
Carina grew up on the south shore of Massachusetts but spent her adolescence studying Arabic in the Middle East. She returned state-side to get an English degree from UCLA, and after graduation, moved to Brooklyn where her passion for wine took off. After exploring the city's natural wine bar scene and becoming a frequent customer of local wine shops, Carina began taking classes through the WSET and started working in wine retail. When she's not reading the back of a wine label, you can find Carina in the kitchen trying to nail a new baking concoction or dancing with friends.
JOSH FRIEHLING
Sales – Manhattan
After growing up in Rockland County New York and graduating from the School of Communication at Northwestern University in Chicago, Josh headed for Los Angeles to pursue a career as an actor. Luckily for us, that put him on the hospitality path where in 2009 he had the great fortune to work with and learn from two very highly regarded Italian chefs in LA – Celestino Drago and Gino Angelini. Thus began the story of Josh's love for Italian wine, which remains dear to his heart to this day. In 2014, he returned to New York City where he continued his hospitality career eventually deciding to focus on wine. In 2020, Josh earned his WSET 2 certification with distinction and made the leap into the world of wine sales. He is thrilled to bring his hospitality and wine expertise to Team Bonhomie, and we are thrilled to have him. At the end of a day of pouring delicious wine, you can find Josh with his beloved dog Charlie strolling through Riverside Park.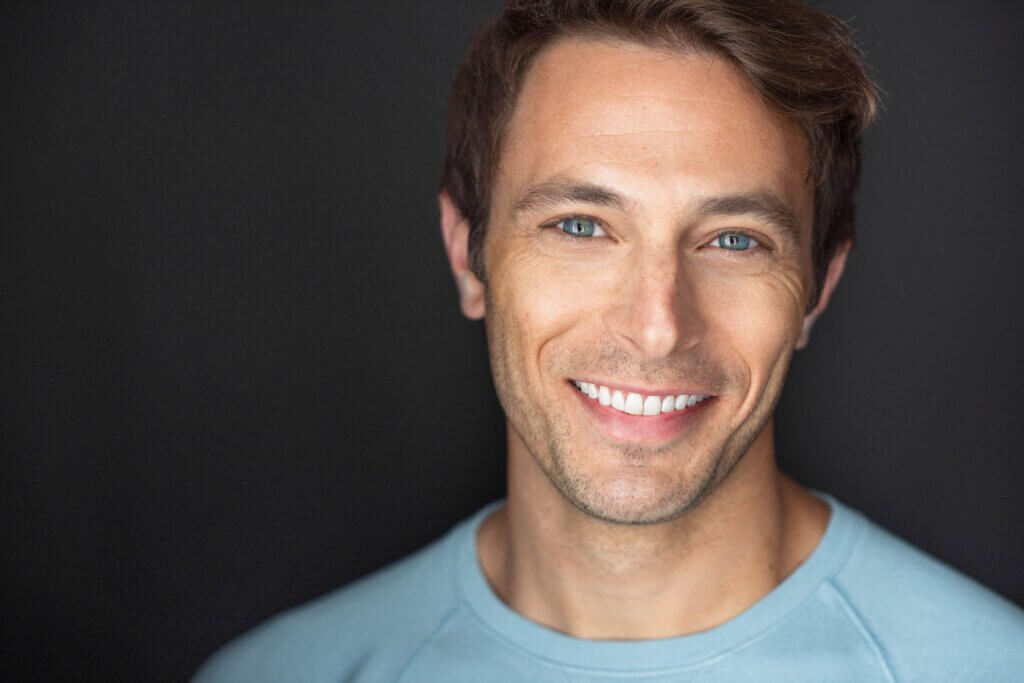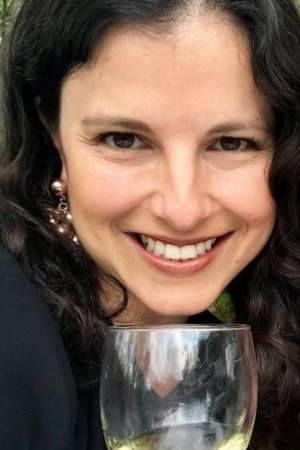 ANGELA KAHN
Sales- Manhattan, Hudson Valley and Westchester
After moving to Westchester from San Diego (where she worked in non-profits and consulting), Angela dared to re-invent herself again, taking the gleeful plunge into all things wine.She grew up in Ohio, studying and teaching French. A true love of the language led to a Master's degree in picturesque Vermont. Along the way, she spent a year in the Loire Valley, the source of her initial love affair with wine: the local Vouvray. An additional year in francophone Senegal further deepened her worldview and appreciation for diversity.Angela loves wine for its ability to connect people to place and people to people. And it's a haven for insatiable learners with a spirit for adventure and an ear for music. Multiple retail experiences most recently include Zachys Fine Wines. She served on the tasting team at Wine Enthusiast as well, honing her palate and her pen. With its purposeful mission and passion-driven portfolio, Angela can think of no better fit than Bonhomie to continue to flex her wine muscles—especially in beautiful Westchester and the Hudson Valley.
EMILY AREND
Sales – Queens and Manhattan
Emily is a native New Yorker with over a decade of experience in sales, management, and television production. While she has worn many hats in her professional career, her eight-year tenure at Table Wine helped cultivate a true affinity for wine and spirits. She discovered the ethereal connection between wine, food, and community and developed a passion for introducing small growers and producers to the dinner tables of Jackson Heights. She is thrilled to continue supporting thoughtful winemakers and expanding her community with the wonderful team at Bonhomie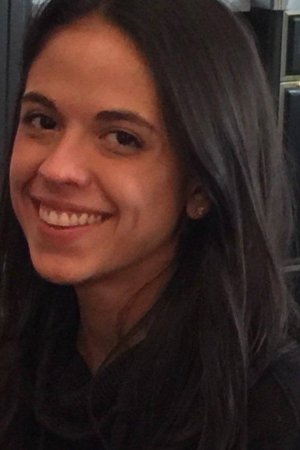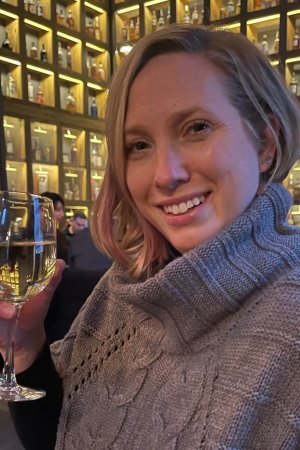 VALERIE CORBIN
Import Operations Manager
Valerie has been grateful to call Bonhomie Wine Imports her work-home for 10 years. Her experience ranges from service hospitality, event & wedding planning, wine retail, wine import and compliance. Living in South Orange NJ with her husband and twin boys, she also appreciates the easy commute. Food and wine are her passions and it is a continued joy to be part of Bonhomie Wines where those passions are supported.
CHARLES WOODS
Founder
After 14 years of careful curation of the Bonhomie Wine portfolio, countless trips to Europe, years of deep friendships with each and every winemaker, Charlie is evolving away from wine and toward other passions. Among these are Ceramics, horticulture, angling, geometry and spending time with his wife, 2 grown sons and dog, Riley and his imaginary cat, Riesling. We are ever grateful for his mentor-ship and the amazing company he created.